Writing and Blogging Jobs
Finally, there's a job board! Pardon me for the limited postings; this job board for bloggers and writers has just been launched in April 2013. If you're looking for writing jobs and blogger jobs, bookmark this page!
I'll be updating job listings often, some of which I've applied to myself. Expect different wanted writer and wanted blogger ads from both local and international companies.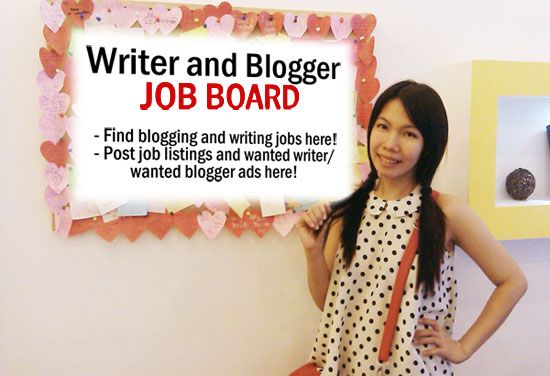 Web managers and writing companies can also look for potential writers and bloggers by posting their ad listings here! Keep reading for more information.
Jobs for writers and bloggers
I know, I know, times have been tough. Looking for writing jobs and blogging gigs that pay good money can be really hard, but there are many ways to look for jobs, whether online or offline. Here are 10 tips on how to find blogging jobs, in case you've been having a dry spell.
And feel free to go through the following writing jobs and blogging jobs. Older posts appear at the bottom. This is a relatively new job board, so there are less than ten job openings for now. But the list will get longer soon enough. Good luck, writers and bloggers!
| | | |
| --- | --- | --- |
| Date Posted | Writing Job Details | Position |
| July 15, 2013 | Full-Time Writer Job! | Writer |
| July 14, 2013 | Money for Blog Posts, Anyone? | Blogger |
| June 16, 2013 | Wordpress Blogger Wanted | Blogger |
| May 21, 2013 | Wanted Fashion Blogger, May 2013 | Blogger |
| May 18, 2013 | Car Blogger Wanted | Blogger |
| April 30, 2013 | Telecommute Book Blogger Wanted | Blogger |
| April 25, 2013 | Looking for Bloggers on Hip Hop | Blogger |
| April 24, 2013 | Writing Job: Tech Bloggers Wanted | Blogger |
| April 21, 2013 | Wanted: Copywriter with Marketing Skills | Writer |
| April 20, 2013 | Health Article Writing Job | Writer |
| April 20, 2013 | Writing Job for Online Marketing | Writer |
I might not have the time to always update this page, so just click on the page above and you can see all live job listings. Thank you!
If you need writers, post your writing job ads here!
If you own a blog you can't quite manage on your own and you need help, let me know and I'll post your ad here for just $40! The ad will include job details and your website or contact information.
For no extra fee, your job listing on this website will also be promoted on different blogger networks and Facebook pages. That way, you get the extra exposure you need to outsource writers and bloggers!
To post your job listing, fill out the form below.
For just $40, you can post your writing job listings or wanted blogger ads on my website for two months. By then, you will have found the perfect writer or blogger! Interested parties may contact me with more details via email.