Stef dela Cruz in the Media
Get to know Stef dela Cruz, MD through her media affiliations and accolades. She has received awards for her writing, appeared on television for her opinions on health, and provided expert opinion for online and print magazines. Browse through her online, broadcast, print, and social media history below.
Doc Stef was the only doctor to receive the 2013 Health Media Recognition Awards recipient, conferred by the Department of Health on November 29, 2013. Her story was chosen among more than 100 entries nationwide. The panel of judges included representatives from the health department and prominent members of the media.
She is a grant recipient and fellow of a 2016 media fellowship program by Probe Media Foundation, Inc. and Unilab Foundation. Her story, produced under the Media & PWID: Covering Stories on Capabilities and Contributions Media Training and Fellowship Program, will come out November.
She contributed health articles to the second oldest national broadsheet, the Manila Bulletin. Stef has written about rabies, health apps, and even sex-related disorders, hoping to bring attention to medical conditions that people are afraid to discuss in the open.
Dr. Stef dela Cruz said no the first time she was asked to be a panelist for the first-ever Healthcare Social Media Summit in the Philippines, organized by HealthXPh with the help of DOST-PCHRD. She was afraid of planes, had motion sickness, and was afraid of public speaking. It was a historic summit – good thing she eventually said yes!
For two years, Stef was a news anchor for the now-defunct All Voices, an international news portal. She aims to achieve two things with her writing: To provoke thought and to evoke emotion. True enough, an article she wrote for All Voices garnered more than 1.3 million page views (and counting) with more than 80 thousand social shares on Facebook, Twitter, StumbleUpon, and Google Plus. She has officially set the record for having written the most-viewed article on All Voices for all time - and she accomplished that all on her third day at All Voices.
Stef appeared on local TV at The Bottom Line with Boy Abunda as a member of the discussion panel. She asked questions about stem cell therapy and research and challenged the merit of offering dubious stem cell treatment modalities in hospitals without enough clinical evidence of their safety and effectiveness.
Not one to keep quiet about important health issues, Dr. dela Cruz is now one of the three doctor-columnists at Health Care magazine. Her column, Clinical Impression, showcases her musings on diet fads and relevant socio-medical issues.
Stef is a columnist for Animal Scene Magazine. Her column, called Fur The Win, shares tales about our feline friends and their human companions. Inspired by her black cat, she dedicates her column to all puspins and the humans who are champions for loving them.
Reaching another milestone as a writer, Stef dela Cruz is the newest and the only Filipino blogger at Talk Health, a renowned website that works hand in hand with United Kingdom's National Health Service (NHS) Choices.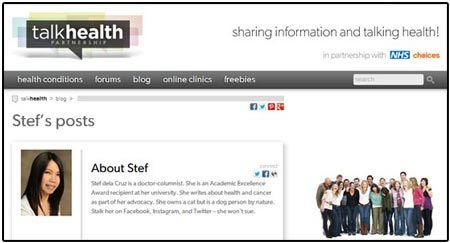 In 2013, the her website was one of the Top 100 Health Blogs To Follow. Her website was chosen not only for its content, but also its social media following.
Consistently, her health blog is one of the Top 50 Health Blogs on TopBlogs. As the list is updated daily, it shows her capacity to maintain her blog consistently and provide useful content diligently.
Sharing her opinions unapologetically is something Stef is known for. She was a columnist at the now-defunct The Fortnightly, a national newspaper that aimed to uplift the Filipino culture. Her column, named See You In Health, featured her opinions on losing weight, vanity, and health-related topics.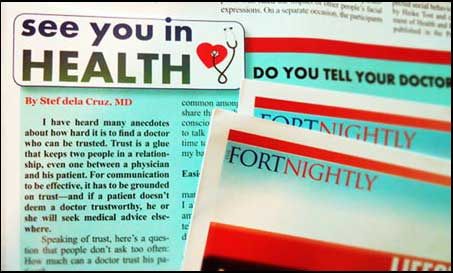 Believing that Android phones are the smart man's smartphone, Stef is an Android app blogger who provides insights and online marketing strategies on the popular technology website, TechVocal. "I would rather sell an iPhone to buy an Android smartphone and donate the remainder to charity," she says.
As an Android app junkie, Stef dela Cruz joins the blogging team at Idea To Appster and is tasked with discussing the fast-evolving world of Android app marketing.
Confessing that writing is something she wants to do until she kicks the bucket, Stef dela Cruz was a regular contributor for the now-defunct Yahoo! Voices. She has successfully published articles on health, books, and blogging affairs.
Stef is the editor of the book Virtues: The Substance of Mankind. "In a person of virtue, goodness is most apparent when there's nobody watching – and that's when goodness matters the most."
If you're always online, you'll enjoy getting in touch with Stef on Twitter, Facebook, and Instagram! You can also contact her anytime. Find out how she juggles being a writer, blogger, and doctor: Read more about Stef dela Cruz.